Top 10 Tips for your Mountain Wedding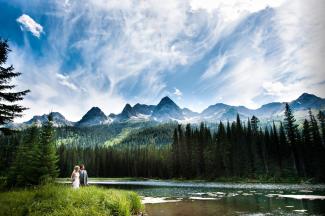 Whether you've set the date to get married at Island Lake Lodge's I Dew Point or another mountain location, there are many things to consider if you've chosen a wedding venue in the mountains. From outdoor necessities to service providers and activities, read on for Katie's top 10 tips for getting married in the mountains.
Do Your Research – Look into where the best places are to take photos, how long it takes to drive or walk to key locations, and what the weather is usually like during your wedding month. Questions like these will help you gain insight into vital details for your wedding day so you can plan where to go, how long it will take, and what to bring. They will help you envision your day and anticipate what could be useful to prepare. Perhaps you'd like photos taken in Island Lake Lodge's old growth cedar forest or to catch golden hour by the lake. Maybe you'd like to know which months showcase a little snow on Island Lake's Three Bears mountain peaks. Look into the logistics to make your wish list happen. Sometimes, answers can be found online. Other times, it is helpful to ask your hired service providers or the staff who work for your wedding venue. Having opinions from locals will give you insider insight.
---
Proper Footwear & Outerwear – Heels and dress shoes look great, but if your day will involve you accessing certain remote, rocky or wet locations, it's best to wear boots, sneakers or flats en route and carry your fancier footwear to change into. If your wedding is at Island Lake Lodge, we recommend this for walking to the I Dew Point ceremony spot if you're not taking the shuttle. Likewise, weather in the mountains can be unpredictable and bringing a raincoat, shawl, sweater or blanket is a good plan. Even if you don't end up needing it, you'll be happy to have the option.
---
Communicate with Your Venue – Your venue staff are professionals who have hosted many weddings before. They have a wealth of information on recommended wedding day timelines, specific service providers, bar service suggestions, and floorplans. Given the number of weddings they have seen, they have encountered a variety of styles and personal touches that you may not think of and may want to consider for your own special day. If they are open to it, ask their personal opinions on music, decorations, service providers, signature drinks, ceremony details and the best photo spots. Keep in mind, these details may fall outside of the event manager/staff's scope of responsibilities and they may prefer not to get involved with these aspects, but it doesn't hurt to ask. For example, Island Lake Lodge can provide photos from past weddings' table settings, ceremony décor and guest book table arrangement for inspiration.
---
Keep it Simple with the Mountains as Your Backdrop – You won't need a lot of decorations or frills to make your wedding look stunning. You chose to get married in the mountains for the views and nature so let that shine. Elaborate decorations or too many details can actually detract from the landscape. Keep it simple by letting the backdrop speak for itself or just add a few small complimentary touches. The serene mountain lake and stunning peaks of the Lizard Range mountains is the focal point at Island Lake Lodge's I Dew Point ceremony location.
---
Outdoor Necessities – Your mountain venue is gorgeous but don't forget to prepare for the other things that come along with being outside in the sun, in the forest, or by the water. Bring bug spray, sun screen, an umbrella (great for rain or sun), a First Aid kit, tissues/wipes, super glue, antihistamines, hand sanitizer, and any other emergency kit items you think would be helpful when you're out in the elements.
---
Eat & Stay Hydrated – Don't forget to take care of yourself by eating nourishing food and drinking lots of water throughout the day. Making sure your body is hydrated and well-fed will allow you to maintain your energy and prevent dehydration-related headaches, low blood sugar shakes, and brain fog. Bring a water bottle and snacks with you wherever you go. If you're getting married at Island Lake Lodge, make sure you get a plate from your wedding day's delicious breakfast and lunch buffets. Post-ceremony hors d'oeuvres will await you at the Bear Lodge after you say "I do".
---
Personalize – Make your day your own. Add personal touches like photos, favours and decorations that are representative of who you are as a couple. Don't be afraid to get quirky and celebrate your unique union with a funny first dance, having your pet be a part of your ceremony, adding bright pops of colour to your dress/suit, or coming up with a game to get the wedding couple to kiss at the reception dinner. It's your day; get outside the Pinterest/wedding magazine box and make it YOU.
---
Book Well in Advance – Mountain locations are very popular for weddings. Book your venue first. At Island Lake Lodge, we recommend at least one year in advance. Longer is likely required if you are not flexible with your wedding date. Next, zero in on your service providers. In small centers, there are oftentimes only a few options for ceremony officiants, florists and photographers. Book these providers, then look into the other personnel you will require for your day. Musicians, transportation and equipment rental are important to secure well in advance, too.
---
Activities – Getting married in the mountains allows for a plethora of exciting activities at your doorstep. Put together a list of fun to-do's for your guests. At Island Lake Lodge and in/around Fernie, there is great hiking, mountain biking, whitewater rafting, chairlift rides, helicopter tours, lakes, and more. Another fun option is to pick one of these activities and do a group event a day or two before or after your wedding. A guided educational hike on the flora and fauna of the Island Lake property is a wonderful way for you and your guests to get up close and personal with nature.
---
Be in the Moment – This is your wedding day. You are celebrating yours and your partner's love with your family and friends in a stunning mountain location. Look around at the beautiful scenery, be present with your new wife or husband, take a big breath of fresh mountain air, and take it all in.