While Island Lake Catskiing strives to provide you with a legendary powder experience, our number one priority is safety. Our mountain team is experienced and well trained in risk management and rescue techniques. All guests are equipped with a transceiver, probe & shovel and attend a safety briefing, which includes rescue training. We strive to continuously maintain our safety record by ongoing training and professional development.
The Catskiing Safety Program
All guides and snow-cat drivers participate in daily meetings where field hazards, snow stability and weather are assessed. Check out our Current Weather page for the latest updates. Island Lake Lodge subscribes to the Canadian Avalanche Association Information Exchange (InfoEx). This daily exchange of technical avalanche, terrain, snow and weather data, along with detailed hazard assessments improves the team's awareness of the local conditions and conditions across Western Canada. Learn more, visit the CAA InfoEx. Each day a snow safety team, consisting of two guides, gathers field information and assesses snow stability. They work together with the road builder to open new terrain. All guides, cat drivers and lodge staff carry radios during operating hours and maintain regular communication. Each guide carries rescue and first aid equipment and each snow-cat is equipped with extra rescue equipment. As part of the safety program our team uses explosives. By artificially triggering snow instabilities on a regular basis, the risk of large-scale avalanches is reduced. This maximizes the amount of skiing terrain that we have to offer our guests. Island Lake Lodge is a member of HeliCat Canada. As a member we are required to meet a strict set of safety standards and operating procedures.
The information contained in the Safety & Risk Awareness section of this website is intended to inform you of the risks, dangers and hazards you may encounter while snowcat skiing or snowboarding, and to help you stay safe while enjoying these activities.
Release of Liability and Risk Awareness PDF  
---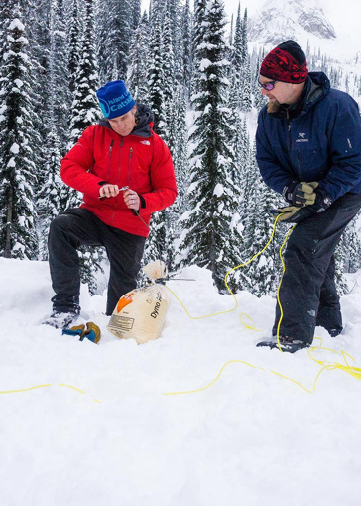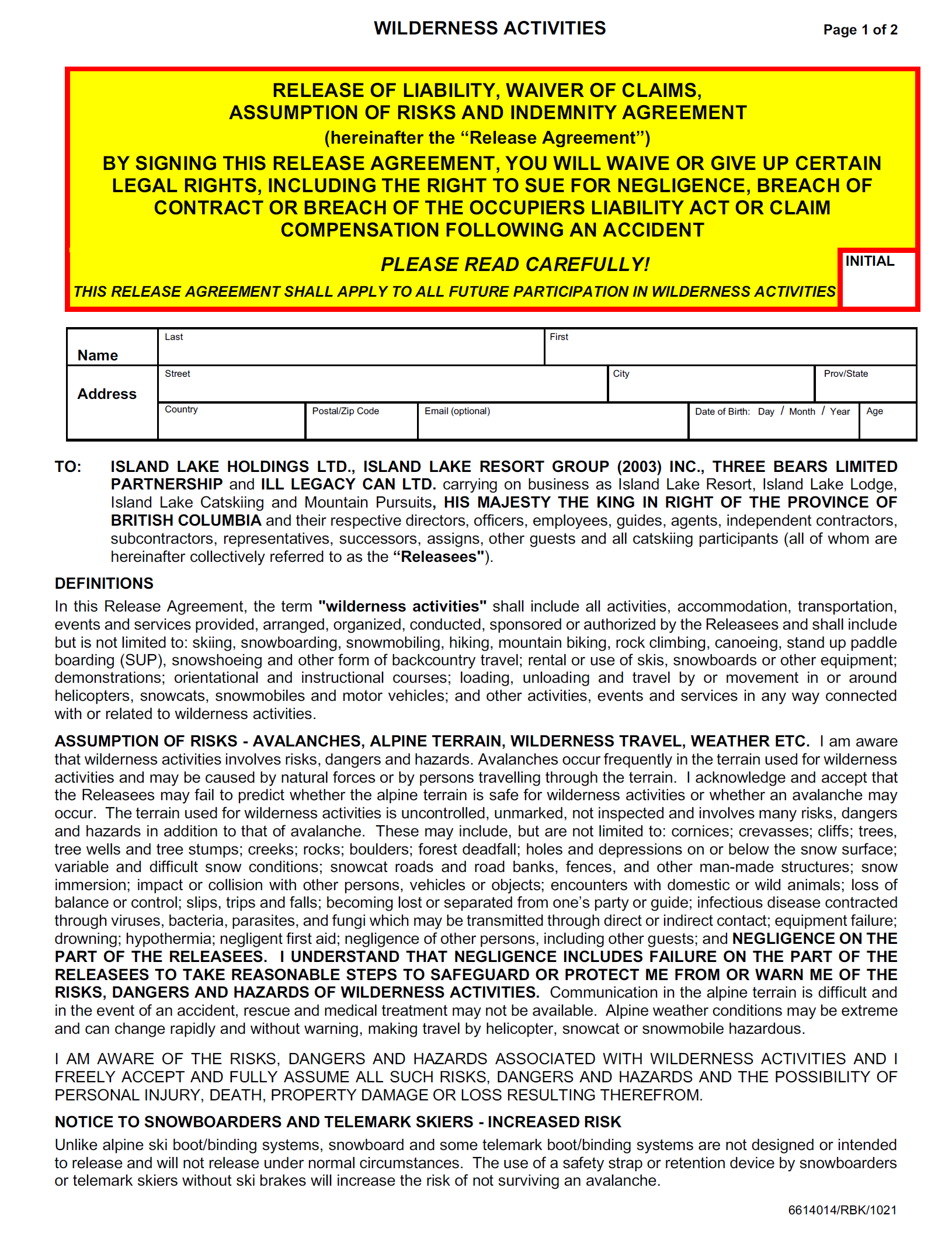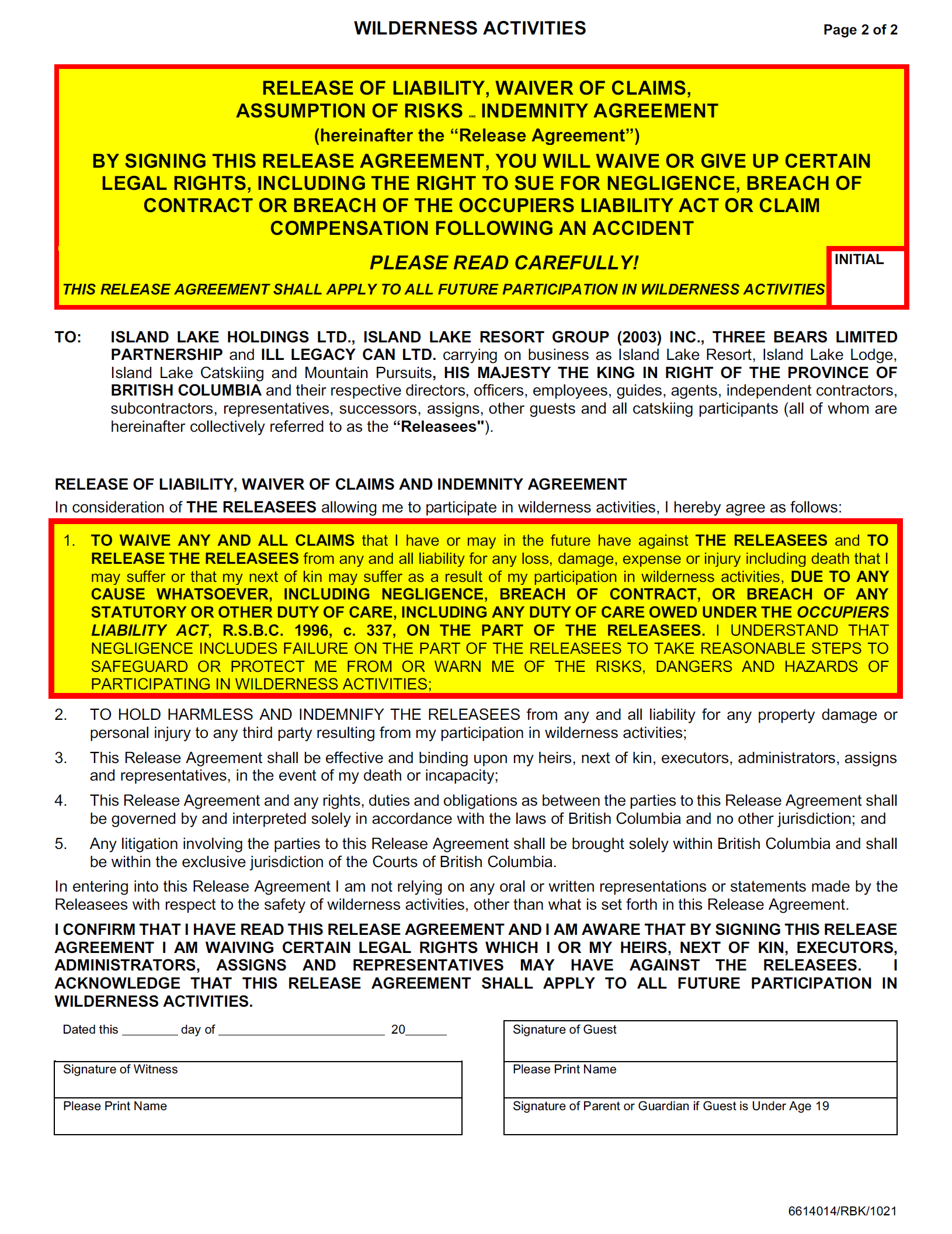 The Mountain Team
At Island Lake Lodge, a guide, a tail guide and a snow-cat driver accompany each group. All guides have been trained and certified by the Association of Canadian Mountain Guides and / or are members of the International Federation of Mountain Guides. The tail guides have advanced first aid training and, at a minimum, Canadian Avalanche Association Level One certification. Both guides and tail guides participate in ongoing training sessions, and remain current with practices found elsewhere in the industry. Island Lake Lodge snow-cat drivers take part in pre-season training that includes basic avalanche awareness and first aid.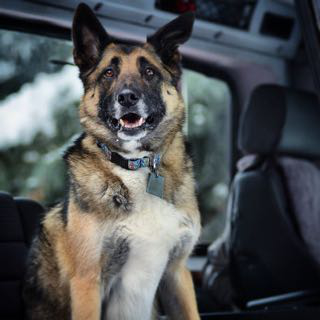 Snow-cat Skiers Responsibility Code
Actively listen to and participate in all Safety Training
​​N​ever participate in catski activities while impaired from drugs or alcohol
Listen to and follow your guide's instructions
Always stop above and as directed by your guide
Ski and ride close to tracks set by your group
Always keep spacing between each skier and rider as directed by your guide
Always ski with a partner unless directed otherwise by your guide
Always approach a stopped group slowly and cautiously
Electronics: Keep all electronics turned off. Keep all electronics, metals, magnets and battery packs a minimum distance of 20 cm from your avalanche transceiver. Don't impair hearing with music devices
Always stop above a snow road. Ensure the road is clear of vehicles prior to crossing
Never ski or ride up to a moving snow-cat
Always approach a parked snow-cat slowly, in control and only when the driver is outside of the snow-cat