The information contained in this Safety & Risk Awareness section is intended to inform you of the risks, dangers and hazards you may encounter while catskiing, snowshoeing, cross country skiing, touring, etc., and to help you stay safe while enjoying these activities.
Island Lake Release of Liability and Waiver PDF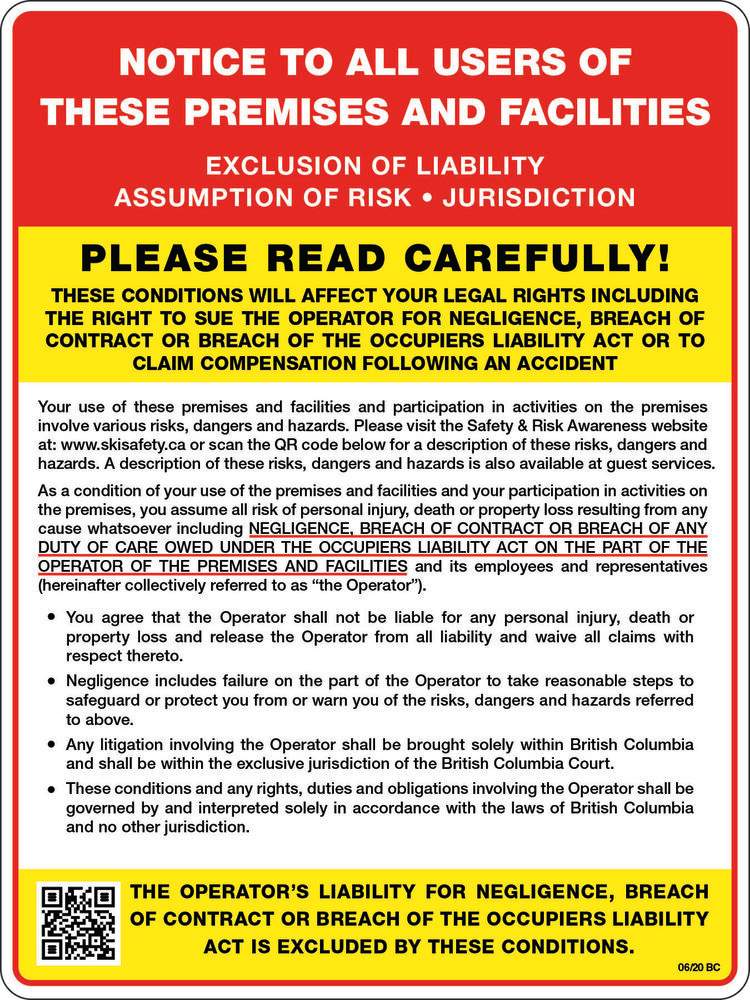 All guided skiing packages are priced in Canadian Dollars and include all meals, accommodation and powder ski/board rentals.  There is an additional 5% GST applicable on the whole package, and 11% Hotel Tax applicable on the accommodation portion of the package. Gratuities are not included.
On a typical tour guests can expect to ski a combination of open bowls and gladed tree runs. The snow conditions can vary, may not always be powder and at times can be difficult to ski/board.
At a minimum, guests must be at a strong intermediate level: 
Capable of skiing / riding in control at a steady pace on any terrain. 
Comfortable in a variety of snow conditions.
Fit enough to ski / ride consecutive, full days.
If you are still unsure, please have a read through the Ability Levels below for detailed descriptions of the skier/rider abilities that are recommended for Island Lake Lodge. If you are still unsure, or have any concerns you can also contact our Reservations team to help determine if you are ready.
Expert
I can ski/board anything, fast, from first chair until last call. If there's powder on the mountain, I'll find it and ride it with ease. Deep snow, tree runs, airs and steep terrain are what I'm looking for.
Advanced
I normally ski/board advanced terrain and I'm always looking for deeper snow. I don't need to be the fastest, and air time isn't required for my day to be a success, but I enjoy small drops. I'm fit enough for full days and I try to get as many as I can.
Strong Intermediate
I can ski/board advanced terrain comfortably, in control and at a steady pace. I enjoy riding in powder and have experience. I'm physically fit enough for multiple full days on the mountain.
Cancellation and booking Policy – 2023/2024
For 35 years, Island Lake has worked to accommodate your needs and will continue to put our guests first. We are committed to providing an outstanding and safe experience for our guests and staff. Prior to completing your booking, you will receive Island Lake's Release of Liability and Awareness of Risk Waiver that you MUST read and agree to prior to Island Lake confirming your seat(s).
Non-Refundable Deposits
A 25% non-refundable deposit is due upon booking.
Final Payments
The final balance is due three months (90 days) prior to your tour arrival date.

Island Lake reserves the right to cancel unpaid bookings.
If A Guest Cancels Their Seat Before Or After Final Payment
The guest may sell their tour seat to another skier, aged 19 years or older with Island Lake's knowledge & consent.

If a guest cancels and Island Lake is asked to find a replacement for the seat, payments will be refunded when the seat is filled with another guest – less a $250+tax admin fee per seat.

If a guest or Island Lake is unable to sell their tour seat, the seat is non-refundable, and the guest will lose booking priority for future years.
If Island Lake Cancels A Tour
Island Lake Lodge reserves the right to cancel any ski tour up to 48 hours before the start of the tour.

In the event Island Lake cancels a tour for any reason, guests have the following options:

Move your entire payment, including deposit, to the 2025/26 season.

Receive a full refund if the above option is not satisfactory to you. Please note: refunded seats will lose their booking priority for future years.
Trip Cancellation / Interruption
We recommend trip cancellation and interruption insurance.

For specific coverage questions, please contact our preferred provider

Acera Insurance

.

Except as provided in these terms and conditions, Island Lake will not provide a refund or compensation for any expenses related to your booking or trip to Island Lake, including airfare, car rentals, and accommodations.

Island Lake reserves the right to modify our Booking and Cancellation Policy for the 2024-2025 season.
Government-Imposed Travel Restrictions  
International Guests
Island Lake will not collect your final payment if:
The Canadian border is closed to international travellers*.

You are unable to leave your Country of residence due to Government-imposed travel restrictions.

Government requires you to quarantine upon entry into Canada.
If Government–imposed travel restrictions are in place at the time of your final payment due date, we will extend your due date until three (3) days after the lifting of restrictions.

Within four (4) weeks prior to your trip date, if Government-imposed travel restrictions are in place we will provide you with the following options:

Accept the potential travel restrictions and continue to hold your reservation.

Move your entire payment, including deposit, to the 2025/26 season.

Receive a full refund if neither of the above options are satisfactory to you. Please note: refunded seats will lose their booking priority for future years.  
No adjustments will be made to the refund for differences in the exchange rate between the time payment was made and the refund was issued.
Domestic Guests
Island Lake will not collect your final payment if:
You are unable to leave your Province of residence due to Government-imposed travel restrictions.

The BC Government requires you to quarantine upon entry into the province.
If Government–imposed travel restrictions are in place at the time of your final payment due date, we will extend your due date until three (3) days after the lifting of restrictions.

Within four (4) weeks prior to your trip date, if Government-imposed travel restrictions are in place we will provide you with the following options:

Accept the potential travel restrictions and continue to hold your reservation.

Move your entire payment, including deposit, to the 2025/26 season.

Receive a full refund if neither of the above options are satisfactory to you. Please note: refunded seats will lose their booking priority for future years.
The lodge is at the elevation of 4600 ft.  The skiing starts as high as 7000 ft. The Island Lake experience includes breathtaking bowls, exciting tree runs or gentle rolling slopes with a variety of aspects and pitches. The ski day generally consists of 8-12 runs, approx. 12,000-15,000 vertical feet depending on the ability level of each group.  Breakfast starts at 7am in the Tamarack Dining Room. You will be on the mountain from approximately 9:00am to 4:00pm. After skiing, there will be après-ski in the Bear Lodge bar then dinner at 7:30pm. Watch our a day in the life video to get full rundown.
Guiding & Safety
Our Snow-cats operate with two guides in each cat of up to 12 guests. All guides are fully qualified as either a guide or a tail guide as defined by the Helicat Canada Association (previously BC Helicopter and Snow-Cat association). All guides are accredited members of the Association of Canadian Mountain Guides or the Canadian Ski Guide Association. Tail Guides have received industry level training with the Canadian Avalanche Association as well as advanced first aid accreditation.
On the first morning of the tour, the guiding staff will introduce you to avalanche transceivers and search techniques. Each guest is supplied with an avalanche transceiver to wear on the mountain.
Island Lake Lodge uses the Barryvox avalanche transceiver. Like all modern transceivers, other electronic devices, magnets and metals interfere with the Barryvox' performance. For this reason we ask that guests leave all electronic devices in the cat while skiing or speak with their guide about alternatives. Please note that chest mounted GoPros are not permitted, however, helmet and pole mounted GoPros are acceptable.
Watch a video overview of our Safety Program
Drones
Please note that Island Lake Lodge does not allow the use of drones on our property.
Drug and Alcohol Policy
To ensure the safety of yourself and the other group members you must refrain from alcohol and drug use before and while skiing or boarding at Island Lake Catskiing.  Anyone breaking this rule will be barred from skiing or boarding for the duration of the day.
Skiing/Riding at Island Lake Lodge is good to excellent most of the time, but nothing is perfect!  Conditions in the mountains can change dramatically overnight. Do not despair if you hear discouraging reports shortly before your trip, it often changes favorably at the snap of a finger.  Our guides are experts at giving you a fun and safe trip in all weather and snow conditions.
Early Season Skiing in December
Though still early season, skiing in December can be fantastic.  Days are typically a bit shorter and colder making the snow typically a bit drier.
Late Season Skiing in March and April
We tend to get our biggest storms of the season in March.  The days are longer and the weather tends to be a bit milder.
Equipment & Clothing
Important items to ensure you bring along with you: Ski/snowboard boots (we do not provide these), warm clothing, day pack, camera, goggles, helmet, slippers for around the lodges, bathing suit, snow boots, sunscreen.
Powder Skis available to use during your stay at the lodge:
DPS Pagoda Lotus 117

.  The Pagoda lotus 117 is the do-it-all powder ski. The DPS Pagoda construction is a downhill performance-oriented layup, creating the perfect balance between an energetic turning platform and a confidence-inspiring dampness. The new Lotus 117 is highly responsive and leans toward the lighter and quicker turning side of what most skiers expect for a performance-oriented ski.

 

DPS Pagoda 112

.

An all-mountain ski with a 15meter turn radius, a deep tip and tail rocker that allows it to be highly maneuverable in powder and hard pack. The Pagoda 112 is a shorter length alternative to the Lotus 117.

Salomon QST Blank 112

.

With a 112mm waist, a snappy and stable feel, and a bomber construction, these skis are as well rounded as they come. They excel in soft snow, thrive on speed, and are as comfortable weaving trees as they are gunning big open lines. They're accessible, powerful, and simply excellent for any skilled jack-of-all-trades skier.

Women's Salomon QST Stella 106

.

  The QST Stella 106 has been known as the go-to powder tool providing a light and maneuverable ski.  The twin rocker profile floats through light snow without sacrificing stability and power.  It is light in the tip and tail for easy steering. The QST Stella 106 is available in shorter lengths than the QST Blank.

Poles are available,  we do not supply boots.  
We use the Salomon MNC binding. It is compatible with:
ISO 5355 - Alpine DIN Soles

ISO 9523 - Touring Soles

GripWalk Soles

Walk to Ride Soles

Dynafit Vulcan AT
PLEASE NOTE: Any guest that does not have boots that fit into one of these categories will not be able to use our skis. You will need to bring your own skis or rent boots.
There are snowshoes at the lodge, available upon request as well as a variety of other things that you may need, (or may have forgotten) at the lodge gift shop.
Snowboards
Salomon Sickstick, Super 8, Pillowtalk and Speedway – Surf the pow or slap the slush, the Sickstick snowboard is the deck in the quiver that can handle it all.  Various sizes available from 153 cms – 162 cms. Super8 – The Super 8 Snowboard is designed with Backseat Camber that puts the power and control under your back foot, whether you're ripping pow or laying down turns on groomers. Featuring Rocket Science—a wider design for loose and wild maneuverability, this board has power, speed, and control. Various sizes available from 154 cms – 163 cms. The Speedway is a big mountain tapered direction board with rocker. We have it in 165 and 170.  Pillow Talk – (Women's) – This powder puppy board is tailored specifically for women and endorsed by Annie Boulanger. The Pillow Talk snowboard can ride it all. Various sizes available from 143 cms – 151 cms

Snowshoes
Atlas Spindrift – The Spindrift was designed for speed and performance on technical terrain, with an ultra-durable molded foredeck, slim profile, and aggressive traction, providing the ultimate fast and light backcountry experience.

Guests have 30 days to rebook for next year with the same tour, number of seats and specific lodge. Should you wish to alter your tour details, please discuss this with our reservations team. Guests who elect not rebook will lose their seniority and their seats will be offered to the waitlist. 
There are several ways to travel to Island Lake Lodge and you can find detailed information here.
Where should I fly?
You have three choices. If coming from the USA and looking for reasonable flights, you might want to consider Kalispell, Montana. From the airport, you will reach Island Lake in approximately two hours by car.
The closest major centre is Calgary, Alberta, three to four hours away.  The beautiful drive south through the foothills of the Canadian Rockies is well worth the trip.  Perhaps consider flying all the way to Cranbrook, B.C. Only one hour from Island Lake, it is the preferred choice for some. You can get to Cranbrook by connecting through either the Calgary or Vancouver airports.
Arriving in Fernie
You can rent a vehicle from Kalispell, Cranbrook and Calgary or we can suggest coach transportation providers for you from any of the above airports. Transportation to the lodge is not included in the package price. Kalispell airport works best if you are a large group. Island Lake strongly recommends that our guests arrive a day in advance to avoid any possible delays.  Please call or email well in advance for any transportation or accommodation information. Our Snow Cat pickup is located 3km north of Highway #3 near Fernie. Turn north off Hwy #3 at the Lodge sign, 2km west of Fernie. The Island Lake sign at the end of the road will denote the parking lot. You need to be at the parking lot no later than 5:00pm on the evening of your arrival. Guests will be transported back to the parking lot leaving the lodge no later than 4:30 pm on the last day of the tour.
Alternative and or Late Arrival Fees
Island Lake Lodge is 8km up the Cedar Valley. Guests travel to and from the lodge via Snow Cat, which takes approximately half an hour. Guest pickup is at the parking lot at 5:00pm, the night prior to the first ski day. There will be a charge per person for late, early or alternative pickups.  Please call the office if you will not be arriving at the parking lot by 5:00 pm or if your travel plans have changed.
For more maps & travel information, please visit the Tourism Fernie website:
More Travel Information
The Tamarack and Cedar Lodges feature 8 deluxe guest rooms each, with spacious ensuite bathrooms, a soaker tub and shower and a combination of queen and king beds. The Red Eagle Lodge has 10 cozy rooms with ensuite bathrooms.
Each of the lodges has its own outdoor sauna with stunning views of the Lizard Range. In the Red Eagle, it is located right on the main deck, off the common area, out under the wide-open sky. The Tamarack Lodge is equipped with a beautiful spa facility and the sauna. In the Cedar Lodge the sauna is on a covered deck as well, off the main floor common area. There is also a fitness room on the lower level of the building. This room is outfitted with stretching and yoga mats, stretching charts and apparatus, as well as limited cardio equipment and free weights. 20 minute stretch classes will be offered in the Cedar Lodge fitness room at 7:15am and 7:45am each morning, except your first morning as you will be attending Mountain Safety. 
The lower level of the Bear Lodge includes personal lockers for storing jackets, helmets, and other ski apparel over the course of your visit with us. Other popular facilities in the Bear Lodge include a pool table and foosball table in the main après-ski and lower games room. Learn more about the lodges here.
Packages include all meals, with dinner on the first night that you arrive. Guests will enjoy a 3 course set menu curated by our culinary team. It is important for guests to inform us of any allergies and/or dietary restrictions well in advance of their arrival. Dinner seating at 7:00pm on your arrival night and 7:30pm on each night following. 
Both The Tamarack and Bear Lodges have fully licensed bars. Due to the specifics of British Columbia Liquor Laws, any alcohol on the premises must be purchased under our liquor license. As a result, any alcohol purchased outside of the lodge may not be brought onto the property. Island Lake's wine library has been revamped providing you with an extensive selection of new world and old world wines.
All guests are requested to be mindful of their alcohol consumption and moderate it accordingly.  
There is complimentary wireless internet available in all lodges. Please feel free to bring your laptop or tablet. There are no phones in individual rooms; should you require use of one, there is a guest phone located in the common area of each lodge.
After a great day of skiing, massage will soothe tight muscles, improve range of motion and prevent injuries. Let our experienced staff ensure you feel your best for the next day on the mountain.
Island Lake Spa features four treatment rooms, with 50 minute relaxation and deep tissue massage being offered each ski day at 4:30pm, 5:30pm, and 6:30pm. Please call ahead of your arrival to reserve an appointment, as treatment space is limited.
Guest Code of Conduct
We are committed to creating a safe, welcoming and memorable experience for all of our guests and staff. We ask that your conduct respects the rights of others to enjoy their experience and behave appropriately at all times. For safety reasons, the consumption of alcohol or drugs is not permitted during the active ski program.
For your safety and comfort, unacceptable conduct, harassment and / or abuse of any kind will result in being asked to leave the property and/or possible barring.
Guests are liable to Island Lake Lodge for any damages, which result from negligence of our regulations or any other negligent behavior on their behalf.
This winter, we are pleased to reintroduce the Photography Program! The photo program is now available as a pre-booked service and must be booked 3 weeks prior to your arrival. It's an incredible way to capture stunning, high definition images – memories that will be treasured for a lifetime. It includes a photographer with you on the terrain for one day of your tour and each guest that has booked the service will receive digital access to all the edited images from your epic trip. Minimum of 6 guests per snowcat are required for booking.