Summer Glading Makes Great Tree Skiing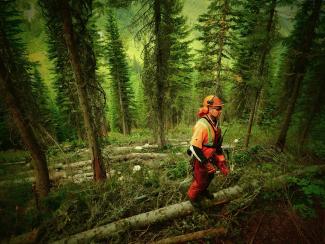 Here at Island lake we take our tree skiing very seriously.  You could say that some of us are addicted to weaving in and out of the timber.  In an effort to continually improve the catskiing experience, we have a crew glading every year.  Corrie and Big Steve are both winter guides and know the terrain better then anyone – they had a very safe and successful glading season this past summer.  Their initial work  was on early season terrain and included Skyline and the Ridge to Hodad with significant clearing on the EBTR run.  They then shifted their focus to Beer Run adding additional ski terrain and cleaning up the exit.  In addition they improved the ski outs on Hot Tub Shoot and 5 Star which should allow us early access to these fantastic runs.  The team then moved into the wonderful Woodys area of Mount Baldy and established and new run to the skier's right of Silver Glade.  Hoopla is a 500m long, 75m wide run and a continuation of the amazing work Corrie and Big Steve have been doing in the Woodys.  It is a great complement to the other runs in this area:  Big Woody, Little Woody and Silver Glade.  The team wrapped up the season by clearing a significant area in the lower Geisha area that will provide improved options early season to Geisha Gulley and to one of our regular used pick up areas.
Thanks to Corrie and Big Steve and to the Shop Team for their support to the Glading Team.