Staff Profile - Marie-Hélène Jodoin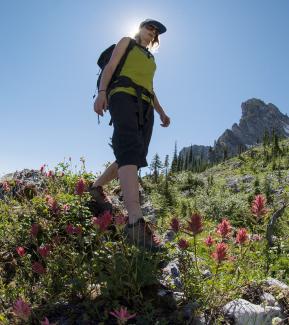 Marie-Hélène or MH, as she is affectionately known around the lodge, has been a staff staple for over a decade. She is a member of the seasoned snowcat driver team, driving snowcats for guests in search of powder. This job requires a high level of confidence and experience as the snowcats drive on snow roads in very challenging conditions including all kinds of weather. In summer, MH is part of the Island Lake trail crew which maintains and builds hiking and bike trails on the property. This past year, the all-female trail crew completed a brand new alpine trail called Goldie Locks. The trail was very difficult to build as it navigates a high mountain pass, builder fields and steep terrain. In addition, the crew had to hike up to the trail in the alpine every day. Whether winter or summer, MH is an integral part of the lodge team and her infectious laugh, sense of humour and positive attitude make everyone around her smile.
Following are a few questions and answers with MH:
Where did you grow up?
I grew up in Montreal, Quebec.
When did you move to Fernie and what brought you?
My dad, who traveled a lot, had a framed aerial picture of Vancouver and its surrounding mountains in the living room. I always looked at it knowing I needed to explore that place on earth, so I did. After hitchhiking for two months in British Colombia with my best friend, I knew that BC was the place I needed to come back to. Fernie seemed liked a quiet town with a good average snowfall. I moved to Fernie 14 years ago.
How long have you been working at Island Lake Lodge?
I've been working at Island Lake for 11 years.
What do you like most about driving snowcats?
I love the different challenges we can have with driving and blading depending on the type and amount of snow and the type of slope. You can get stuck, you can dig yourself into a hole quickly, you can drive in a total white-out or out on a narrow road. It's such a powerful machine that you have to drive with finesse.
How is it to drive the new Pisten Bully Snowcats?
They feel pretty darn good and smooth.
What is something people might not realize about your job?
You need to be able to drive, yes, but you also need a good sense of orientation, of keeping calm and in control in stressful situations, and to be in a good physical shape as we do a lot of lifting. We lift skis 17,000 times per season from in and out of the ski box.
How long were you and the trail crew working on our new hiking trail?
We worked on the new hiking trail, Goldie Locks, for two summers and finished it this Fall, just before the snow fully covered the terrain.
Do you prefer summer or winter these days?
I don't prefer summer or winter. I love them both for all the different fun things you can do.