SheJumps at Island Lake Lodge - Why do you go to nature?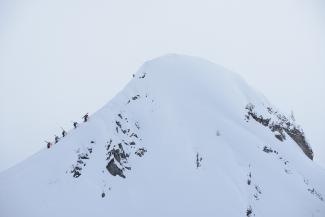 Island Lake Lodge is proud to collaborate on this project with SheJumps to better understand what it means to play and experience nature. 
SheJumps is a US-based nonprofit organization dedicated to increasing the participation of women and girls in outdoor activities to foster confidence, leadership, and connection to nature and community. ​
Island Lake Lodge CEO, Dave Morrison, explains what this partnership means for Island Lake:
"SheJumps' passion, values of inclusion and personal growth, while connecting with the natural environment, are perfectly aligned with ours. We are so excited to support them.  Last winter was a great start to our partnership and I couldn't be prouder of the outcome.  Excited to see what's next!"
Claire Smallwood (featured in the film) is the executive director and co-founder of SheJumps. Claire lives in Fernie, right down the road from Island Lake. She and her partner relocated here a few years ago and is excited to work with Island Lake Lodge on inclusion efforts. 
"The outdoors are not a space where women, especially Women of Color, have always been intentionally included. It's wonderful to have an experience where we can play and feel renewed in the mountains—especially in a place such as Island Lake Lodge. I have been dreaming of skiing here since I was a teenager growing up in New Mexico." 
SheJumps offers programs year-round to teach technical skills to women and girls. Last year they had more than 10,000 participants at their events. 
All the skiers in this film are all connected to SheJumps programs in some way or another, a testament to the many ways in which outdoor play resonates with people.
Nat Segal, a professional skier also based out of Revelstoke, attended the first-ever SheJumps Alpine Finishing School in 2012 to solidify and refine her ski mountaineering skills. Andrea Byrne is a professional skier for Salomon and has volunteered for local programs in Fernie. 
Ariel Kiseke Hill actually helped organize the first-ever Canadian SheJumps event, "Get the Girls Out!" at Lake Louise and has been supporting the organization since 2011. Ariel is an artist living in Revelstoke.
"Last season I had the opportunity to ski with an amazing group at Island Lake Lodge in Fernie, BC. This experience was impactful on me as a skier and a woman in the mountains. Being in world-class terrain with some very inspiring women and supportive guides helped me to reach some new heights in my skiing. I learned so much from that experience and will take those experiences with me."
---
SheJumps help​s​ women and girls take risks in the outdoors to enable them to break through fears and internal/external barriers in life so they can grow to their full potential. Support the organization by making a donation today: shejumps.org/donate 
To learn more about SheJumps, follow on social media or go to SheJumps.org