Partner Spotlight - Soco Soaps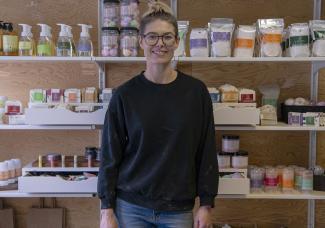 Here at Island Lake lodge we are always on the lookout for local companies and producers to partner with. We take pride on sourcing as much from our local community as possible.  Luckily for us, there are many great local, artisan businesses making creative products that are well suited to our brand. Soco Soaps is definitely one of these and we use their products in our spa. Karey Pion has been busy the last few years perfecting her unique soaps and other great products. Their soaps are made with over 50% olive oil for its mildness, as well as coconut oil and sustainable palm oil, some with all-natural essential oil blends, and some with phthalate free fragrances.  Essential oil soaps are 99.9% natural and the fragranced oil soaps are 96.1% natural. Pretty impressive!
What brought you to Fernie and how long have you been in the area?

  I moved to Fernie for the first time in the fall of 2000 on a whim after being invited by a friend at a bar in my hometown of Winnipeg… 2 weeks later I was in Fernie! 

What got you into the soap business initially?

 I decided on a whim to learn to make soap, but promised myself that if I did, I would keep learning until I mastered it. Several failed batches later, I began to make usable soap, which started piling up, so I started to give it away to family and friends. After having my first child, I became a regular at the local farmers markets to supplement maternity leave. After having my second child in 2014, with lack of childcare and the desire to be present during my children's formative years, I made the decision to see if this could be a real job, while working around the kids schedule while they slept. Things just grew from there! When I first started making soap, it was a dream that it could one day be my full-time job, and now it has gotten to the point where it is! I am extremely blessed. 

You have a reputation for producing quality products – do you have a philosophy behind that?

 When I first started making products, it was to know what was going on my skin. It became much more important after having kids to know what I was putting on them. Every single ingredient I use has been thoroughly researched, with every resulting product being one I would let my children put on their skin/ in their bath. I love creating, and I love providing people with products that are pleasing to all the senses, with great scents, mindful ingredients, in a rainbow of choices. 

How many products do you now produce?

 Between all the kinds of soaps, bath bombs, shampoo/ conditioner bars and all Soco Soaps' other offerings, last time I checked we were at about 106 products! 

Where are they generally available?

  Our products are available on our website 

www.socosoaps.com

 or at about 45 retailers across Canada. 

 

What is your best seller?

 Ooh, tricky question... Wild Thang soap is always the favourite, Spearmint Shampoo and Conditioner, or any of our bath bombs! 

What is your favourite scent?

 well, that entirely depends on my mood! Citrusy for uplifting and happy, Spearmint when I need some freshness and clarity, lavender when I need to slow things down. 

What does the year ahead hold for Soco Soaps?

 Soco Soaps is looking forward to continuing to grow organically, both in its reach and with new products. We plan to release several new items, including more bulk / refill options.