Partner Spotlight - Cutter Ranch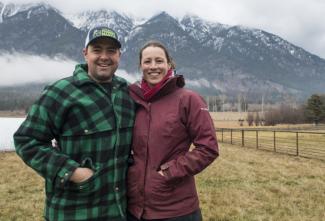 On the edge of the southern Rocky Mountains near Cranbrook BC, an impressive and dramatic ridge rises from the valley floor. "The Steeples", as they are called, are as photo-worthy as anything in the region. At the base of these impressive peaks lies the also impressive Cutter Ranch. Cutter Ranch is a family affair with kids, dogs and owners Tyler McNaughton and Sacha Bentall living their dream and doing things in a well thought out and progressive way. Tyler is a self professed "Ag Geek" with a B.Sc.Ag.-business degree & Ag Diploma in crop management from the University of Manitoba. Their passion and knowledge for the business are apparent throughout the operation and they were recently named Outstanding Young Farmers in BC and Yukon for 2018.
Here at Island Lake, we love to partner with like-minded local businesses who hold similar philosophies about quality, respect for the environment and community. We sat down with Tyler and Sacha for a little Q&A:
What made you guys settle in the East Kootenays?
 Initially, we came to visit family close to where we live now and immediately fell in love with the landscape. We  recognized the many benefits to moving our farm to the East Kootenays both for the needs of a young family and farm business. What we did not expect was the the overwhelming community support for our products and way of farming. People in the Kootenays have a very progressive and open-minded attitude toward the improvement of our local food system.
Cutter Ranch has gained a reputation for high quality products. Do you have an underlying philosophy that drives you?  
How much space do you have for this article? LOL. This can be best summed up with our core goals:  pursue the endeavor as a couple, dedicate time to raise a family, be good stewards of the land, be self-employed, grow high quality nutritious food while providing a high level of animal welfare, and build a farm enterprise that will support our core goals.
Can you describe the new paddock system you put in for the pigs and its benefits? 
We had experimented for many years with different methods of pasturing pigs and no one method was ever simply managed. We knew this would not be the way to efficiently raise hogs outdoors and to scale up our operation. It was not until the last few years that we made bigger investments in specialized outdoor hog-raising equipment from Europe. This made a tremendous difference in efficiency from a labour standpoint. We also designed and had manufactured a specialized fence panel which can be positioned to any configuration around our fields. Our outdoor hog system is now totally modular and, more importantly, mobile. The benefits are numerous including labour savings as one of the most important and also the ability and speed with which we can rotate our hog paddocks. Managing animals on our land with more precision is a key tenant to  our philosophy of land stewardship.
What breed of pigs do you have? 
We raise different breeds of pigs to suit different customers needs: a combination of Berkshire, Duroc and Yorkshire breeds.
What is your plan with cattle? 
We have steadily growing demand for the type of finished beef we raise: pasture raised with a grain finish, Beef Done Right(®). Our short-term plans are to build the herd to meet demand and make our beef more widely available to restaurants and customers further afield (pun intended). Our beef herd serves as an alternative offering to pork on the consumer side and also adds diversity for risk management on the business side. Our goal is to be focused primarily on red meat production, and cattle are a logical fit to utilize the improved forage production from plant nutrients on the swine side.
Where can people buy your products? Why, Island Lake Lodge of course! Locally our products can be found at Little Soul Cafe, Farm to Folk and Rick's Fine Meats in Cranbrook; Creme Cheese and Centex in Kimberley; and Kootenay Co-op in Nelson.