Legend Profile - Scot Schmidt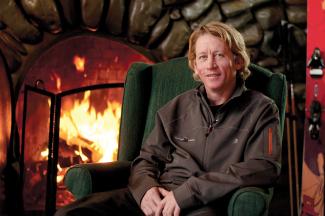 Scot Schmidt is one of those quiet reserved guys who does not draw a lot of attention in a crowd. He tends to be the laid-back people-watcher in the corner. This is in contrast to the place he holds in the history of the snow industry and to many other professional athletes at his level. If you are a non-skier or if you happen to have been living in a cave for the last 25 years, Scot has the distinct industry title of "The Original Freeskier." He is recognized by most as being the first big mountain pro skier who managed to make a living jumping off stuff and shredding powder. Back in an age when ski company sponsorships revolved around alpine racers, ski ballet and moguls, Scot sought a different path and defined a niche that has since become the standard for pro ski athletes around the world. Part of his legacy was created and documented at Island Lake Lodge, where he became a shareholder, director and regular Lodge fixture.
Part of the path Scot carved in the early '90s was through his ski movie segments. At a time when household VCRs were exponentially increasing the reach of  "Ski Porn," snow video stars were able to bring the "radness" right into your living room. This changed the game. Freeskiing pros had a medium, locations became household names and filmmakers could make some money. After filming several movies with Warren Miller, Scot hooked up with a young upstart filmmaker with a unique perspective on the world. Greg Stump captured Scot's effortless big mountain style, added cutting-edge music—all while following a more "interesting" plot-line than the average ski movie. Scot's laid back, friendly style not only looked good on film but probably contributed to why he has been on The North Face ski team for 30 years now. In an industry full of egos, short careers and overhype, Scot is still skiing 100 days a season and not taking himself too seriously.
Scot is still a regular at the Lodge and comes at least once a season. It is most likely that he has skied more days at Island Lake than anyone other than some of the long-term ski guides. He can still be found relaxing by the river rock fireplace in the Bear Lodge after a good day on the slopes, quietly contemplating and taking in the après scene.
A few quotes from others: 
"Scot definitely pioneered the role of pro freeride skier in North America; he basically helped create the career I have. He also opened the North American industry's eye to the potential of freeriding, plus he is a total shredder and pushed the progression and style of the sport."  – Eric Hjorleifson; Pro Skier
"Scott was a huge part of starting the freeskiing movement in the '90s and was basically the man to watch during that time… I loved watching his pow segments from the Greg Stump movies!" – Ian McIntosh; pro skier
"I think Scot was the Kelly Slater or Shawn White of his day… His style was the main thing that impacted the industry and it's still alive in a few skiers today. Proper style indeed."  – Eric Crosland, Sherpas Cinema