Hiking Tips for Fernie's Trails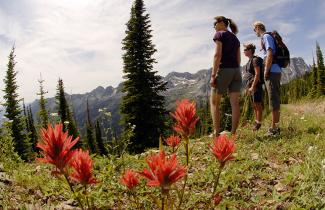 Make the most of your day hike with these tips
Descending the Spineback Trail above Island Lake near Fernie, B.C., the sky opened up and fat raindrops began falling in a furious torrent, instantly turning the warm air cold and frosty. My hiking companion and I sought shelter under a large spruce tree, donned rain gear and extra layers stashed in the daypack, and then continued picking our way down the trail using our hiking poles as additional limbs to navigate the slippery sections.
An hour earlier the summer sun had shone bright, illuminating Island Lake—and the nearby lodge of the same name—far below the ridge where we sat on a bench taking in the view. The sudden shift from hot and sunny to cool and rainy demonstrated how quickly the weather can change in the Canadian Rocky Mountains.
Every summer, thousands of hikers are drawn to the pristine wilderness in this southeast corner of British Columbia, to explore over 100 kilometres of trails that start at Island Lake Lodge. Here, old growth cedar forests at lower elevations give way higher up to sub-alpine meadows punctuated with wildflowers and rocky escarpments inhabited by pikas, marmots and mountain sheep. It's possible to experience several different climatic zones—and the flora and fauna unique to each—in one day.
I've hiked five of the region's nine trails, from the easy Old Growth Trail that wends four kilometres through a forest of Western Red Cedar trees, some estimated to be 800 years old; to the demanding Tamarack Trail, which ascends nearly 600 metres to a viewpoint that looks out over the entire Lizard Range to the west, and the Three Sisters peaks in the opposite direction.
During every outing, and especially on those with kids in tow, I'm always happy I've over-packed. There are few things worse than a cold, thirsty and hungry (or hangry) child, and unpreparedness is the surest way to spoil an otherwise fantastic day in nature.
So I've compiled some tips, below, to help a hiker out. Some seem obvious, but are worth restating, because there's always someone who sets off on a four-hour hike wearing flip-flops and carrying only a small bottle of water. Instead, be the day-tripper who brings a rain jacket, map, bear spray, extra snacks and a water filter… just in case.
Hiking Tips
Research the hike and bring a good map.
Pack snacks and water. Hikers tend to underestimate how long they'll be on the trail and how much water they'll need to stay hydrated. A good rule of thumb is to carry a half-litre or more for every hour on the trail, plus a bit extra as insurance (and even more if it's particularly hot) or a water filter if there will be an accessible water source. When hiking the Baldy Loop, for example, which can take up to six hours, bring at least 3.5 or even four litres of water. Energy bars and trail mix with salty nuts make great snacks to help replenish electrolytes.
Dress in (or bring extra) layers. As we found on Spineback Trail, mountain weather can change in a hurry, so it's important to have a thermal option, a waterproof shell, zip-on pants and even a toque and gloves.
Fancy footwear. You don't need to have the latest hiking boots, but broken-in shoes with a decent tread will help prevent slips and blisters.
Slather on and don sun protection, including sunscreen and a hat.
Be bear aware. It might feel silly singing and shouting on the trail, but it's an important technique to alert any bears you're coming, and it gives them time to move away. Bring a canister of bear spray (and know how to use it) in case you do have a close encounter.
Let someone know where you're heading, and when you plan to be back.
Don't forget your camera!
By Lisa Kadane