Flying Squirrels Over the Bears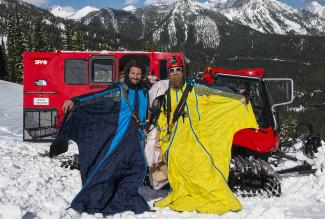 Over the radio came the words "it's doable… if you close your mouth and point your toes".   3 guys in wing-suits climbed out of the helicopter, out onto the skids and jumped…
In the high-octane world of action sports, there seems to be a continual upping of the adrenaline ante. For sheer ridiculous entertainment value, there is little that compares to the newish sport of wing-suit flying.   These unique and slightly "off kilter" athletes jump out of a helicopter or off a cliff, fly with their specially designed wing-suits and pull a small parachute when close to a landing zone.   With little room for error, these stuntmen have not only been pushing the boundaries, but demolishing them.
When local Elevation Showcase shop owner Lance Edwards told us was bringing back the KAVU and Gopro Bomb Squad "some of the best wing-suit flyers in the world" to Fernie again, the gears started turning. How could we get them up to Island Lake and perhaps include it in our new TV show, which is currently in production? One of the segments of the new show is about inspiration and pushing your limits; this seemed a logical connection with guys jumping from a helicopter and flying. Though there is little connection to catskiing and we are not about to start offering the experience, the inspiration and idea of pushing your limits is a cohesive fit.
The day started out with a bit of weather, so we took a snowcat up to explore some options. In early afternoon the clouds broke and the warm spring sun revealed the peaks of the 3 Bears in all their glory.   The 5 KAVU and Gopro Team athletes of Marshall Miller, Jesse Hall, Neil Amonson, Jeff Shapiro, Hartman Rector, geared up and loaded the waiting helicopter.   After a few rounds the "flyers" became more comfortable and buzzed Papa Bear Peak, flying about 10 feet off the summit. Hartman Rector, whom has a reputation for pushing the envelope a little further not only buzzed the big peak, but also did a cork screw (360 rotation) trick in mid flight – a truly impressive sight.
Though on the surface these athletes seem a bit reckless and crazy, the fact is that everything they do is highly calculated and planned. Close proximity flying is premeditated and every detail thought through, as the consequences are high.
Watch for video edits in the coming weeks and a segment in the Island Lake TV show next year.
A huge thanks to: KAVU, The Gopro Bomb Squad, Lance Edwards, Marshall Miller, Jesse Hall, Neil (the Lorax) Amonson, Jeff Shapiro, Hartman Rector, Rick Emerson, Martin Chabot, Nick Nault and Matt Kuhn.
Words by Mike McPhee
Photos by Matt Kuhn and Mike McPhee