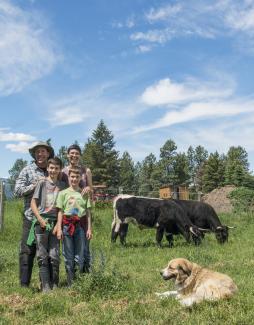 Over the last couple of summers, we have had the 'Bolter" Burger on our Bear Lodge menu. The burger itself has become a staple on the Bear deck and has received rave reviews from lodge staff and guests alike. We decided to have a closer look at the origins of the burger and the family that produces the beef.
The green rolling hills of South Country near Jaffray, BC is idyllic by anyone's definition.  The Ponderosa Pine forest mixed with grassland is supplemented by one of the sunniest climates in BC. It is here you will find the Bolter family on their acreage; working the land with love and a sense of responsibility.
The Bolters are not born and raised farmers. Astrid and Mathias are transplants from Germany and Switzerland originally and, like many others in region, fell for the area on a trip here. After buying 3 cows and 85 acres in 2002, they have grown the operation to have 80 head of cattle, a couple dozen pigs, 100 or so chickens, 285 acres and 2 teenage boys (Jeremias & Felix). Walking around the operation, one gets a sense of the care and attention put into the farm. The pigs roam a forested area and the cows graze lush green grass with the Rocky Mountains as a backdrop. The chickens enjoy their "re-purposed" RV on their own hillside. The cows are a unique mix of Texas Long Horn, Dexter, Highland and Angus; part of the uniqueness of the Bolter burger no doubt. Astrid explains their philosophy of keeping it natural, though this may take a bit longer and cost more in the long run. It's easy to sense the pride and fulfillment the family gets from doing things the right way on the farm and not cutting corners.
Island lake Lodge has long prided itself on the close relationship it has with the local community and suppliers. A philosophy of shared values in a shared environment has been a driving force within our business. We are proud partners of the Bolter Farm and the Bolter Burger is testament to a quality result from extra effort, dedication and sense of responsibility. Drop on by the Bear Lodge and experience it for yourself.
Have a look at their farm here and yes they do offer tours: http://bolter.ca/the-farm/