5 Reasons to have a Winter Mountain Wedding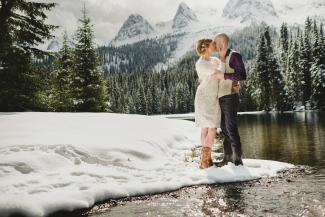 While summer tends to be the more popular season to get married, wintertime boasts many advantages of tying the knot when the snow flies. Here at Island Lake, we have the perfect winter wonderland for tying the knot and can host weddings in late season (April). Following are a few reasons to have a winter wedding.
Romantic Ambiance – Imagine a crackling fireplace and hot toddies while you relax with your loved ones as the snow falls outside. Winter encourages you to get cozy inside wood lodges or put on a fluffy coat for a winter walk, hand-in-hand. Bonus: with a white snow backdrop, your photos will be stunning.
Less Weather-Reliant – Summer wedding couples are oftentimes concerned about what the weather will be like on their special day. Summer rain can mean a change of ceremony location and the inability to get the photos you want. If you choose a winter wedding date, you know it will be cold out and, even if it precipitates, it will be pretty snow. In the winter, you are able to plan for the weather more easily.
Less Vendor-Related Competition – With summertime being such a popular time to get married, couples may not be able to book their favourite photographer, florist, etc. due to competition. In winter, you have a higher chance of booking your ideal vendors.
Quieter & More Intimate – Getting married at a less popular time of year means you are more likely to have the whole day with just your family and friends. In the busier summer season, you may have to share your venue with other guests who aren't a part of your group, and you may even see other wedding couples. A winter wedding provides more intimacy and privacy.
For more information on weddings at Island Lake Lodge, contact Kendra at kendra@islandlakeresorts.com.