3rd Annual Untamed Kootenays Culinary Event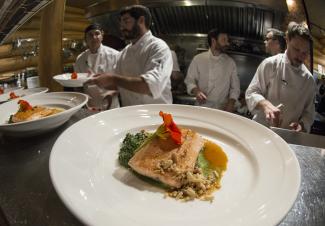 Island Lake Lodge is thrilled to announce it will host Untamed Kootenays, an annual culinary event featuring uniquely Kootenay cuisine, for its third consecutive year on June 8th, 2019. Island Lake Lodge is well-known as a premiere Canadian ski destination that attracts visitors from across the globe in the winter months but continues to exceed the bar as an exceptional summer destination for foodies, hikers, bikers and travelers alike.
Once again, the Lodge is inviting new and returning guests to indulge in a true forest-to-table experience like none other. On Saturday evening, the Tamarack Dining Room will welcome food lovers to dine on Lodge-made fare for a Chef Showcase led by Island Lake's Chef Keith Farkas, created with an abundance of ingredients sourced and foraged from the surrounding Elk Valley. Guests can take advantage of a 2-night package and also sample the Lodges new Summer Menus. 
Joining Chef Farkas at this year's chef showcase is Chef Andrea Campi whom has a well know restaurant in the Italian Alps and started Snowlicious - the snowcat food truck franchise. Together, Chef Farkas and the Island Lake culinary team along with chef Andrea will create an inspiring and unforgettable dining experience that highlights the local flavours found within the region. 
Attendees will have the chance to immerse themselves in mountain culture with two full days that include two impressive dinners, along with an opportunity to forage with chefs on a guided hike to find ingredients like fiddleheads and stinging nettles. Guests can also relax in the spa and kick back on the patio with exclusive samplings from Fernie Brewing Co. and BC Wine Studio – the winemakers behind the Lodge's house wines and its very own signature bubbles.
Spots are limited for this summit of Kootenay cuisine with 60 seats for dinner and 20 rooms for guests looking to experience the ultimate summer mountain getaway with unexpected culinary offerings and incredible natural surroundings. Anyone wishing to reserve their spot is encouraged to contact Island Lake Lodge at their earliest convenience.
Dinner only - $152 pp (includes wine, but not gratuity or tax)
Why not make a weekend out of it and taste the new restaurant menus as well. 2 night 2 day packages start at $875 (based on double occupancy)
Call for accommodation packages and dinner only tickets. 250-423-3700 
---
CHEF ANDREA CAMPI
Andrea Campi has been combining mountain culture, locally-sourced ingredients and his love of high-quality cuisine for his entire career. 
Along with running his acclaimed restaurant Osteria al Dossoin the Italian Alps, Andrea started Snowlicious, the snowcat food trucks, which have been getting much media attention over the last year, including on CNN.
Andrea has taken his unique culinary vision on the road to places such as Winvian Farm, a Relais & Chateaux in Connecticut, and together with the Audi Food Experience all over Europe, the US and Canada including recently at the world cup downhill event at Lake Louise. 
Andrea will bring a touch of European and Italian sensibilities to Untamed Kootenays this year.