Staff Profile - Rob Boland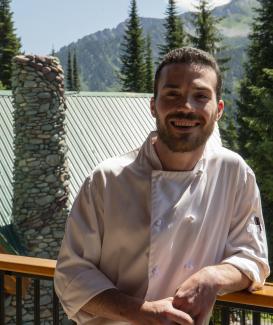 We have an amazing culinary team here at Island Lake Lodge. They continually push the boundaries with creativity, foraging and a local farm to table philosophy. As with many kitchens there are some real characters and passionate people on the team. Rob Boland has been with the company for just over 2 years and has proved himself a valuable member of the lodge team. Here is a little Q and A with him.
Where in Ireland did you grow up? I grew up in a port town in Dublin called Dun Laoghaire (pronounced Dun Leary). I loved growing up right by the ocean and always having access to great, fresh seafood.  
How did you first get into cooking? The person who first got me interested in cooking was my mom. She is an excellent cook and would always have my brother and I help out in some way or another with food preparation from a young age. Meal time and eating well were important in our house and I feel like that outlook has helped fuel my interest in food and cooking ever since. Thanks mom! 
What brought you to Canada and Fernie? I came to BC for the beautiful mountains and the snow! I first came to Fernie in 2010 to spend a season teaching snowboarding at the ski hill. From the very start I knew that I had stumbled upon a very special place and that this was where I wanted to set myself up. I got my permanent residency about three years ago and haven't looked back since.
You make amazing bread, where did you learn your bread making skills? Myself and my girlfriend are self-taught bakers who have learned over the years through lots of reading and research and even more trial and error! Making traditional sourdough bread is a combination of science and intuition (like all cooking) and it has always fascinated me deeply. I worked with an amazing bread baker for a catering company in Victoria who absolutely blew me away with all of his science experiments and the beautiful bread that they helped produce; I remember thinking "I want to learn how to do that". 
 You're an avid fly-fisherman, where did you learn how to fly fish? I am lucky enough to have a few friends here in town who were kind enough to teach me when I started showing an interest. The fishing here in Fernie is really amazing. One of my favourite things to do with a day off is go for a drive down a backroad here and explore new sections of river looking for that perfect spot. 
 Why do you love working at Island Lake Lodge? I love the people I work with, the amazing food that we produce daily and the beautiful setting!
Which season is your favourite – Winter or summer? I came here first for the snow, so winter was my clear favourite for my first few years but after spending a number of summers here I have to say that the two are pretty much neck and neck at this point. A bottomless pow day with good friends is still my ideal day spent in Fernie.