Staff Profile – Katie Hamar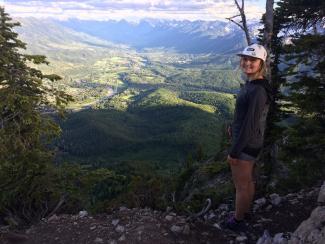 Where did you grow up? 
I grew up in Moncton, New Brunswick.
When did you move to Fernie and what brought you here in the first place?
I came for the 2008/2009 winter season to visit my sister and her now-husband who had moved here a few years prior. I promptly fell in love with the mountain lifestyle and officially moved to BC the following September; to Cranbrook where I would complete my BBA over the next few years. I wanted to finish my degree while living as close to Fernie as possible and Cranbrook was the best option. I spent most weekends and summers here. In May 2013, when I was done school, I officially became a Fernieite.
How long have you been working at Island Lake Lodge?
I started working for ILL in June 2013.
Which jobs have you been in for the company?  
I worked as a Guest Services Representative at the lodge front desk my first few years. When I was given a few extra responsibilities, a job title of Special Projects Coordinator was added. During this time, I also assisted Nicole, the then-Event Coordinator, with weddings. When Nicole moved away, I applied and got the job as Sales & Event Coordinator. I started working in this role in October 2016.
What is your favourite part of the job?  
I love working with people, both the public and ILL's awesome staff. It's rewarding to see the lifespan of an event from sale to planning to implementation. It makes me feel warm and fuzzy to see happy couples on their wedding day and I feel honored to be a part. I also like the challenge of having several simultaneously-moving parts to an event, the organization that that entails, and problem-solving. Plus, you absolutely cannot beat the view.
What is your favourite hiking trail and why?  
I love them all but I like Big White for the views and exhilarating scramble and the new trail, Goldilocks, for showcasing a new perspective. If you only have a couple hours, Tamarack Viewpoint is my favourite option for an incredible view of the lodge and Lizard Range. Heiko's Trail is the ultimate Fernie trail. I can't decide!
What is something people might not realize about your job?  
When I started in this role, I was surprised by how much goes into selling and planning large group events and tour operations. There are numerous steps to take and questions to field long before the group arrives. I also had no idea how many inquiries ILL actually receives. And, maybe this isn't a surprise, but I continue to be so happy to hear how much people really love the lodge and how satisfied they are with their experiences there.
Do you prefer summer or winter these days? 
I am a summer lover but you also can't beat Island Lake on snowy winter day. The excitement is palpable. It's all good up there.