Staff Profile - Executive Chef Keith Farkas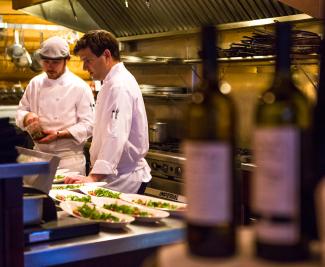 A quick Q&A with Keith Farkas:
CAN YOU TELL US ABOUT THE FOOD PHILOSOPHY OF ISLAND LAKE LODGE?
Yes, I actually get asked this question a lot by our own team. Our philosophy is unpretentious; complex without being complicated. What does this mean? To me, it means seeking good flavours without being too fussy or overdoing it. It's about simple pairings and seeking local wherever possible. Perhaps most importantly however, for dining at Island Lake Lodge, is that it's as much about the incredible natural setting; the view and the calm atmosphere.
WHAT INGREDIENTS ARE SOURCED LOCALLY AND WHY IS THIS IMPORTANT TO YOU?
The honey we use at the Lodge is locally-produced from the bees of the Elk Valley and harvested by Elk River Apiaries. Our Elk Chorizo is reared and produced locally in the Valley. Our coffee beans are the "Island Lake Blend" from local coffee roasters, Roof Top. We source locally wherever we can; it's important to us. Throughout the summer, I can be found most Sundays at the Fernie Farmer's Market where I talk with the farmers, where I've developed a relationship with them. I like to know where our produce is coming from, the journey it's had before I serve it at dinner.
WE HEAR YOU FORAGE FOR INGREDIENTS FROM THE LODGE; WHAT ITEMS APPEAR ON THE MENU?
Yes, we do. We pick stinging nettles from just outside the Lodge which we then use for soups. We forage lots of fireweed that is flavoured with pesto and served in our Market Salad which happens to be one of our dinner menu's most popular items. We create a deliciously-sweet cedar syrup with maple, too. We will often use wildflowers from just outside our back door to garnish our desserts and cocktails. Foraging is important as it's our connection to our landscape.
TELL US ABOUT YOUR COMMITMENT TO 'LODGE MADE'.
Of course. Lodge-made speaks to the elements of our dishes that are made right here at the lodge from scratch. From our house-made granola we serve at breakfast, to the condiments we create here in the Island Lake Lodge kitchen such as our own ketchup and mayonnaise. I believe in it, and I know it inspires our cooking team when they can have confidence in the fact that even the little details of our menu are created by hand.
WHAT ARE SOME OF YOUR FAVOURITE DISHES ON THE ISLAND LAKE LODGE MENU?
The Bison Short Ribs! Due to the popularity of this dish with our guests, I've not been able to take them off the menu for years! The Market Salad is a popular one too. I like this dish for its simplicity, its flavour and its freshness. Also, the foraged fireweed that features as a key part of the salad; it's delicious and our guests agree. I think it's appealing that the salad is prepared from local ingredients.