Partner Spotlight - Elk River Apiaries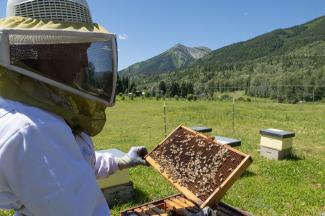 Amber coloured, fragrant and delectable; I am sure most folks would agree that honey is one of the world's most amazing natural substances. Amongst honeys many incredible properties: it is an antioxidant, it has antifungal and antibacterial properties, is known to aid digestion and help with sore throats. Wowza…and it just happens to be unbelievably delicious…nectar of the gods so to speak.
Here at Island Lake we are lucky to have partnered with a local beekeeper Deborah Davidson of Elk River Apiaries for all our honey needs. Our chef team and guests love her honey, as it is extra fragrant and reminds of wildflowers and the Elk Valley. Many of our desserts include this wonderful honey. 
What was the initial inspiration that got you interested in bee keeping and when was that? I applied to a help wanted ad after finishing a semester at university. I was broke and jobs were scarce. After spending my first day in the apiary I was totally fascinated and knew I had found my passion
Did you have a mentor that showed you the ropes? My employer hired and mentored me, as I was the only applicant for the position. He was 68, and had kept bees since he was a child, at his father's knee.
How many hives did you start with and how many do you have now? I started with four hives, and now typically run 100 hives, give or take.
Your honey is famous for its delicious fragrance; what flowers or plants make the best honey? Our natural Elk Valley wildflowers which include fireweed, dandelions, thistle, saskatoon bushes and purple vetch.
How much honey do your bees produce in an average year? 5000-8000lbs
How much honey do you get from an average hive? 50-80 lbs
There are a few types of bees in a hive, what are they? The queen, the workers, and the drones. The workers are divided into different "castes", according to their age, and these castes have different responsibilities within the hive
What are the challenges to bee keeping in the Elk Valley? The very long winters, the wet springs, and the bears!
Their Website