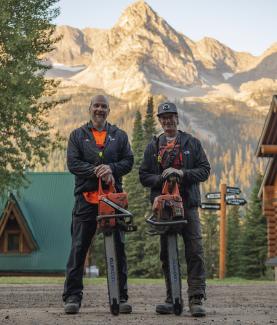 Here at Island Lake we pride ourselves on having some of the best gladed tree skiing on the planet. We have a dedicated glading crew who spend the summer and fall tuning up the ski terrain. Here is what they have been up to lately. 
The first snowfalls of the season are now blanketing the peaks of the Lizard Range. The instinct to ride through pristine powder on the slopes above Island Lake is starting to seep into our winter consciousness. The Island Lake Glading Crew has been working throughout the off-season maintaining, improving, and developing our world class skiing/snowboarding terrain. Many of the classic lines such Mt. Fernie's, Spartacus, Big D, and White tail are fully enhanced and primed for early season shredding. Telefun was expanded on the skiers left with nice new glades. On Mt. Baldy's Little Woody, Silver Glade, Sunnyside, Enchanted Forest, Swiss Ridge, Sorefoot, Beer Run and Hodad have all seen extensive improvements and are ready to go. In Geisha, Wonderland has an exciting new run development on the far left off the Spine Back. Shred Daddy had some expansion and a full tune up. The lower exits of Geisha Bowl also had a nice make over - which will make those tired legs really happy.
Our extensive cat road system drop-offs and pick-ups have had improvements and expansions to get us there smoother and safer than ever. Next step - add a little snowpack and the road builders can start working their magic - then we are ready to ride.
The mountains are calling.  See you on the slopes.
Island Lake Glading Crew